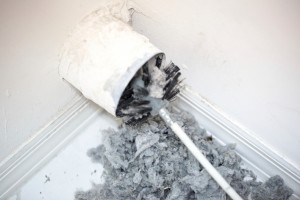 We spend a lot of time telling people about the hidden fire risks that lurk inside their chimneys and fireplaces (especially those that don't receive regular cleanings and inspections). Our chimney sweeps are committed to safety, and there's one safety measure that often goes unchecked.
Today, we want to talk about a part of the home you may rarely, if ever, spend time thinking about. The dryer vent leads out of your dryer and outside of the home. It keeps all that heat out of the house, along with any gases you certainly don't want in your home—byproducts of combustion.
When the Dryer Vent Causes a Problem
The dryer vent is there to protect you and your home. That is, until it becomes clogged up with lint and other debris. Lint is highly flammable. Once it clogs up the dryer vent, all of that heat and smoke can build up, creating problems for your dryer. But the biggest threat is of that lint and debris catching fire, and that fire spreading to the outside of the home.
Cleaning the Lint Trap Isn't Enough
Now, don't get us wrong—cleaning the lint trap is so important for your dryer and for your safety. However, it's not the only thing you need to do. Most lint traps can catch a majority of the larger lint concerns, but not necessarily all of them.
Lint and debris are going to make their way into the dryer duct no matter what. And the shape and structure of your dryer ducts will help to determine whether lint builds up to a dangerous level—along with the timing of your last dryer vent cleaning.
Schedule dryer vent cleaning with experienced technicians to ensure the dryer ducts are completely cleared of debris.
2nd Generation Chimneys, Inc. offers dryer vent cleaning in Minneapolis. Contact us today!