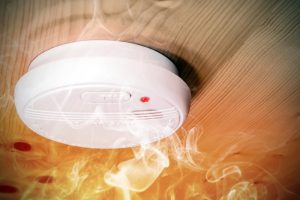 As chimney sweeps and technicians, safety is our number one goal and priority. We help to prevent carbon monoxide and smoke from filling a home with our chimney and fireplace maintenance services. Unfortunately, we cannot prevent every possible circumstance that could put a home in danger. A crack in your furnace heat exchanger, a broken flue vent, or any other dangerous situation could cause a fire or gas leak you cannot predict.
That's why it's so important to have smoke and carbon monoxide detectors throughout the home. However, you cannot just install them and forget about them. Some amount of detector and alarm maintenance is required, and it's pretty easy for you to do yourself.
Testing the Alarm Once a Month
Smoke and carbon monoxide alarms have the same requirements for testing, for the most part. To test the alarm, hold down the button and listen for a beep. You should do this once a month. If you don't hear a beep, something is wrong, and you may need to replace your unit.
Change the Batteries Every Six Months
Every 6 months, you should replace the batteries. This is true even if batteries are not the primary power source. If you only have backup batteries in each detector, you still need them to work in case of an outage. The best way to ensure they will is by replacing them regularly.
Replace Each Alarm after 10 Years
Not sure how old your alarm is? The date is often written in on the back of the unit. Replace your carbon monoxide detector and your smoke alarm with a brand-new unit, and call in an electrician if you need it wired into the home. Test the unit upon installation.
For more information about fire safety or to schedule service for your chimney in Minneapolis, MN, contact 2nd Generation Chimneys, Inc.