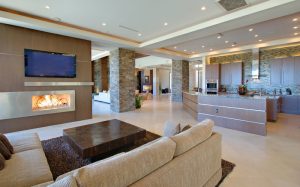 There's nothing like the crackle of a fire on a cold night, something you may be dreaming of right now as summer temperatures leave you sweating. So when you're looking into buying a new fireplace, you may picture that traditional look and feel: a wood fireplace that burns logs and sends smoke out through the chimney.
However, this is not the best option for many homes. In fact, in our experience, more and more homeowners are looking for other options, like gas and electric fireplace installation, especially when renovating an older home or even when modifying a newer existing home. Find out which new fireplace or setup might be the best choice for your home!
Direct-Vent Fireplaces
If you want to add a conventional fireplace to your home, you don't want to have to start from the ground up. While it may seem nice to have a brick chimney and wood fireplace, this is going to cost a lot. There's no way around it. Unless you go with a direct-vent fireplace.
Direct-vent fireplaces involve using a vent that goes horizontally out through the back or side of the home. Rather than having to build a new chimney, refinish an existing chimney, or replace or add in a chimney flue altogether, your direct-vent fireplace stands on its own with a sealed glass door for energy efficiency.
Gas and Wood Inserts
Old open fireplaces, even those that go without use, can be highly inefficient. The huge amount of space going up the chimney is not properly sealed off by a damper, and this structure can be difficult and costly to repair. It may be deemed unsafe, requiring major renovations if you want to get it back up to code.
The best fix is a gas or wood insert. This fits into the old fireplace and seals off the area around it. The insert may use natural gas or wood as fuel. Aside from giving you use of the fireplace again, and upgrading its look and feel, a fireplace insert helps with overall home efficiency. You save money when air and heat are not constantly transferred outdoors and in through the fireplace.
Electric Fireplaces
Don't have the setup for a gas or wood fireplace? Electric fireplaces are perfect for nearly any home. They are typically designed to look just like wood or gas fireplaces. When you start it up, the "flame" can crackle and spark, and it slowly fades out when you turn it off, just like a real wood fireplace.
Wood Logs for Any Fuel Source
A downside to gas and electric fireplaces is missing out on the traditional aesthetic you're used to. But gas logs and electric fireplaces with logs resolve that. Electric fireplaces can be designed to look a lot like the real thing. Gas logs fit over a gas fireplace insert, glowing and giving the appearance of a real flame with the help of sand and lava rock.
For fireplace installation in St. Paul, MN from Napoleon from a company with the largest Napoleon Fireplace showroom, contact 2nd Generation Chimneys, Inc.