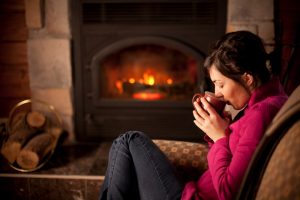 Maybe you've been hemming and hawing about ditching your wood-burning fireplace. Or perhaps you are simply trying to decide if adding a gas fireplace to the house is a good idea. Whatever your situation you are finding yourself wondering if that gas fireplace installation is worth it.
Switching or installing a gas fireplace in your home is a big decision and we can help. Here we've provided some of the reasons you may want to decide to get a gas fireplace. If you choose to go this route, our team is ready and waiting to help with your gas fireplace installation in Minneapolis, MN.
The Benefits of Going for a Gas Fireplace
Here are some great reasons that we encourage people to opt for gas fireplaces.
More efficiency: Wood fires often send a large amount of the heat they create up the chimney. Gas fireplaces by contrast as going to be more efficient at heating the room while still using less fuel.
Less effort: Overall, gas fireplaces require less upkeep and effort than wood-burning ones do. Imagine never needed to go out and buy (or chop) and store wood logs again. This is what you can expect with a gas fireplace! No wood is required–just the flick of a switch or the turn of a key.
Better safety: We've all seen a stray spark land on the carpet at least once and found ourselves holding our breath. This isn't a concern with a gas fireplace since no wood means no ash or stray sparks at all.
Less mess: Gas fireplaces are all far less messy than their counterparts. For starters, no wood means no risk of tracking dirt in the house with the logs. You also won't have to worry about cleaning out piles of ash from the fireplace after each use. Additionally, gas-burning systems create less creosote allowing the chimney to present less of a challenge to clean.
Adds ambiance: Who doesn't enjoy a fireplace? Whether yours has a stone facade, a metal facade, or even tiling, these systems are well known for creating a great gathering place and focal point to whatever room they are in. There is just something to love about a nice warm fire on a cold day!
Customizable: With a wood-burning fireplace you have one medium to get the fire rolling–wood. With a gas fireplace, however, you can choose gas logs, fire glass, stonework, or other options as the "base" for your fireplace, making it more customizable to match your home.
For Your Fireplace Installation, Go Pro
Whether you are replacing or installing for the first time, our team of professional technicians is here to provide the expert fireplace and chimney services you need.
Every member of our team is trained and certified to provide a top-quality installation of your fireplace. From start to finish we make sure to take every detail into account. This way we can ensure your satisfaction and your safety!
For professional fireplace services, contact 2nd Generation Chimneys, Inc.