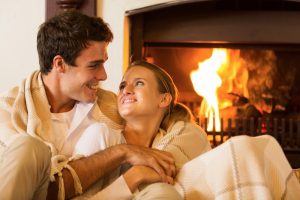 Most homeowners that use woodburning fireplaces in their residences understand just how important it is that they have their fireplace, flue, and chimney inspected and cleaned on an annual basis. The problem here is that, like everything else, fireplaces, flues, and chimneys have changed over time. When those changes happen, it is always possible that someone will fail to get the memo. If you are wondering if your chimney flue needs cleaning, then the simple answer is yes.
There are more options than ever when it comes to the type of fireplace that you use in your home, how you fuel it, and even how you vent potentially harmful gases out of your home. The one constant is the fact that you really need to know for certain that your fireplace is kept in great working condition. Scheduling your chimney sweeping in Minneapolis, MN with our team ensures that this is the case.
It's Not All About Creosote,  Remember!
When it comes to cleaning the flue of a wood burning fireplace/stove or a pellet stove, creosote is obviously your public enemy number one. This sticky mess creates a real fire hazard, and is a major motivating factor for homeowners scheduling chimney cleaning.
Now, just because you have a newer fireplace, or even if you use gas logs or a fireplace insert, you are not off the hook in terms of chimney cleaning. Why? Because there are other problems that you may encounter.
Critters, for instance, don't really care if you burn wood, gas, or anything else. They will get into your chimney and the flue if they want some shelter badly enough, and their nests can really clog things up while also creating a fire hazard.
There is also the general condition of the flue to consider. Again, even if you're using gas and even if your flue is new, there is the possibility of damage due to water leaks, shifting bricks, and so on.
The simplest answer as to why you should always schedule professional chimney cleaning, regardless of the type of fireplace that you use,  is also one of the best. Because it is always better to be safe than sorry. Let us know if you have any concerns about your flue or the overall condition/operation of your chimney.
Contact 2nd Generation Chimneys, Inc. for all of your chimney sweeping needs.