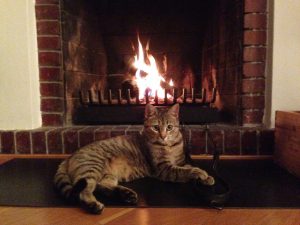 We know, we know—summer is here! It'd be crazy to be thinking about your fireplace now, right?
Well, we think that NOW is the PERFECT time to think about your fireplace! Why? Because even though winter is still a long ways off, isn't it better to get any issues with your fireplace taken care off before temperatures start dropping again?
Below, we have listed some of the signs that suggest it's time for fireplace repair in Minneapolis, MN. All you have to do is keep reading and remember to contact us if you notice any signs of trouble with your fireplace! 
Be On the Lookout for These Signs of Trouble
There are quite a few signs that suggest it's time to call a professional for fireplace repairs:
1. Lots of Smoke
If your home fills up with smoke every time you light a fire in your fireplace, it's probably time to contact a professional for repairs. Smoke filling the home when you burn wood in your fireplace is not only one of the most obvious signs of trouble with your fireplace, but it is also one of the most common.
If this happens in your home, check to make sure that you've opened up the damper. If it is open and the problem persists, it's definitely time to call in an expert.
2. Visible Cracks
If you notice that there are visible cracks in your fireplace, it is important to contact a professional to handle your repairs. Some homeowners think that you can just run out to the hardware store, buy some mortar, and fill any cracks that may exist. But this is simply not the case!
Not all mortars are going to be able to stand up to the heat that a fireplace produces. Take the guesswork out of it by calling in a professional the first time around. Only a professional will be able to assess the damage and do the repair work the right way, starting with the right materials for the job.
3. The Smell of Gas
Gas log inserts are quite common these days. They look great, provide a decent amount of heat, and you don't have to worry about chopping wood. However, installing one of these systems does come with the risk of gas leaks. Therefore, it is important that you never ignore the scent of a gas leak, as the situation can quickly become dangerous.
If you notice the smell of gas, be sure to exit your home and contact the appropriate authorities right away. And if your gas fireplace is the culprit, we can fix it up for you in a jiffy!
Contact a Professional
If you notice any signs of trouble with your fireplace, be sure to contact your local fireplace and chimney experts right away! Only a professional has the tools, training, and experience to properly diagnose and repair your fireplace.
To schedule your fireplace repairs, contact the experts at 2nd Generation Chimneys, Inc. today! Serving the entire Twin Cities!