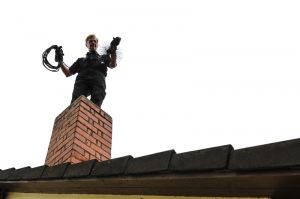 Your chimney is supposed to provide a one-way exit route for the combustion gases and soot created by a fire in your fireplace. Your chimney may not be able to do this effectively if it's dirty.
It may feel silly to think of a dirty chimney being a bad thing but it's true. Over time, especially after a season of heavy use, your chimney flue may become so caked with debris that it starts to do the opposite of what it should. That's why regular upkeep of your entire fireplace and chimney system is so important.
Let's discuss the negative impact of a dirty chimney so you know if and when to schedule a chimney cleaning in Minneapolis, MN with our team.
What Can Happen in Your Chimney?
Just like your AC or heater, the interior of your fireplace and chimney can become dirty with added time and regular use. Every time you start a fire in your fireplace, it can cause smoke, soot, dirt, and other debris to become trapped on the lining of your chimney. The more you use the fireplace, the more debris can start to coat that chimney liner.
As this progresses, it can reduce the ease with which smoke exits your chimney and may even cause it to go back into your home where it really doesn't belong. It may also cause odd smells that end up messing with your daily life too.
Signs That Your Chimney Should Be Cleaned
You shouldn't have to wait until your fireplace is unusable before getting it checked out. There are warning signs to watch for that will alert you to when your chimney needs to be cleaned. These include:
The last time it was cleaned. Your chimney should be cleaned at least once a year. If it has been over a year since your last cleaning, then the time for a good scrub has arrived.
Smoke in the house. If using your fireplace causes smoke to re-enter your home in any way, then you likely need a chimney cleaning.
The damper is sticking. If your damper is having trouble opening and closing, this usually indicates a larger amount of buildup in your chimney.
Trouble starting a fire. Hindered airflow out of your chimney can make it harder to start a fire in the first place.
What to Expect from Expert Chimney Cleaning
If you're looking to get your chimney cleaned, you should reach out to get the job done by a team of pros like ours. This is because we know exactly how to approach this service to keep your chimney reliable and safe the way it should be.
We always start with a chimney inspection first. That way we fully understand the condition of your chimney before we provide any solutions. We want to approach the problem the right way rather than backtracking and wasting time. After the inspection, we will provide the chimney cleaning services that will ensure your system works the way it's supposed to.
You can trust us with your fireplace and chimney needs. Contact 2nd Generation Chimneys, Inc. to get your chimney cleaning scheduled.