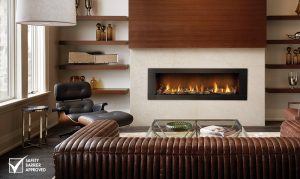 Selecting a fireplace to have in your home is a major decision. Unlike picking a piece of furniture, such as a sectional or maybe a new coffee table, a fireplace is a major installation in your house that becomes part of the home's structure, something you expect to remain in the house for decades, probably even after you move out. You don't want to make a hasty decision about the type of fireplace you get.
Fortunately, when it comes to fireplace installation in Saint Paul, MN, you have a great resource: the team at 2nd Generation Chimneys. We are one of the largest and most experienced chimney and fireplace service companies in the country. We install a range of fireplace types, and we'll help you sort through the choices to find the ideal one for your house. Below, we'll look at several of the most popular types of fireplaces to help get you started:
Wood Insert
This is the "classic" fireplace that burns wood. When it comes to beauty, there's little better than a wood-burning fireplace, and you don't have to expend money on using natural gas to power the fireplace. A wood-burning fireplace is also extremely eco-friendly.
The downsides are higher upfront costs for installation, the greater amount of regular maintenance necessary (such as routine professional cleanings), the level of inconvenience with storing wood, and potential safety hazards from smoke and chimney fires.
Wood Stoves
If you're looking for a more flexible wood-burning option than a standard wood insert fireplace, you may wish to consider a wood stove. These fireplaces provide a similar ambiance to wood-burning ones but can be free-standing installations that don't need a large mortar chimney to vent and therefore cost less to install. They still have some of the inconveniences and concerns associated with wood inserts.
Gas Log Inserts
This is one of the most popular choices for homes today and many homeowners have converted older wood-burning fireplaces using log inserts. You can still enjoy real flames and natural heating power, but without the clean-up, maintenance, and storage of having a wood-burning fireplace.
If you already have a natural gas line for your house, it's not difficult for installers to put in gas logs. There are no sparks and embers that can create fire hazards. They do have less heating output than wood-burning options and aren't feasible for all-electric homes.
Electric Log Fireplaces
Are you interested in a fireplace choice that doesn't require any ventilation installation at all? Electric log fireplaces are easy to install and far less expensive than any other fireplace choice. Plus, they can work in any house: no need for a chimney, no need for gas, no need for any place to store wood.
Of course, you definitely lose something in ambiance from electric logs—they don't have the same effects as real flames. They can also run up high electric bills.
Want more information about fireplaces? Reach out to us and we'll take you on a tour of the various choices. We want you to have the right fireplace that will keep your family in comfort and coziness for many years to come.
You can trust us with your fireplace and chimney needs. Contact 2nd Generation Chimneys, Inc. to find out more about fireplace installation.