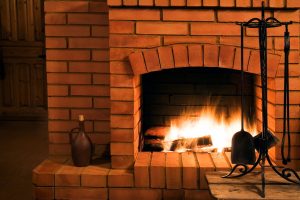 That oppressive summertime heat seems to have finally taken a break and left things around here a little less sweltering. The change in the weather has even started to make things a lot cooler at night which means it is the perfect time to dust of your fireplace and enjoy a nice night with the family around those flames.
But wait! Before you get started, we need to make sure you're going to be safe this season. Have you had your fireplace checked and your chimney cleaned yet? If not, you need to! You never know if you have a possible fireplace repair in Edina, MN that might be harmful to your comfort and dangerous to your home otherwise!
The Importance of Fireplace Maintenance
Your fireplace can be a great addition to your home as long as it is kept up well. We can't emphasize enough that maintenance for your fireplace is a necessity. It can be the difference between enjoying a safe and warm winter season and one that is increasingly risky for you and your fireplace system. Maintenance is going to include cleaning out the firebox, cleaning your damper, checking the different parts of your fireplace and chimney, and more.
3 Possible Repairs Your Fireplace May Need
Even with regular yearly maintenance, your fireplace may still need some repairs. Here are some repairs that you may need to have taken care of sooner than later.
Creosote build-up: The build-up of creosote is something that happens commonly in wood-burning fireplaces. This doesn't mean it should be left unaddressed though. Creosote that coats your fireplace or chimney flue can increase the risk of chimney fires or smoke entering your home.
Cracked or broken bricks: Do you have an older fireplace with bricks that are falling apart? While this may give the home a "vintage" feel, it isn't safe. It is better to have cracking mortar and old bricks replaced or repaired by a professional before things worsen.
Flue trouble: Your flue is the metal or ceramic lining that sits within your chimney and protects it from damage caused by heat or creosote. Over time, however, your flue may start to break down or develop cracks that cause problems like backdrafts into the home. Have a professional check your flue and get it replaced or repaired before you are using your fireplace regularly.
Whether you have a gas-powered fireplace or a more traditional wood-burning one, maintenance and repairs are always a must for the sake of your comfort and safety. When summer gives way to fall, don't skip your annual check-up!
Our team can provide you with the professional technicians who will assess and address anything going on with your fireplace and chimney. From a dirty damper to a flue in disrepair, we've got you covered. With our help, you can enjoy a stress-free and comfortably warm winter season.
Contact the professional team at 2nd Generation Chimneys, Inc. for your fireplace services. We will make sure your fireplace is ready for the winter months.